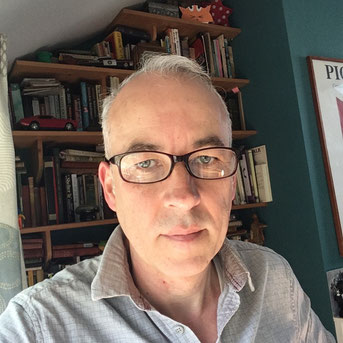 My guest for 'People & Books #4' is Jason Griffiths. After leaving the Forest of Dean to study English in London, Jason returned to the area and is now actively involved in the research and promotion of Forest of Dean literature, past and present. Along with Dr Roger Deeks, Jason is a founder member of the Reading the Forest project. Here he explains his background and his commitment to Forest of Dean authors and readers.      
Are you originally from the Forest of Dean?
I was born at the Dilke Hospital and grew up on the outskirts of Cinderford. My parents are both from the Forest and many of the family ancestors can be traced back to the Forest of the 19th and even 18th century. But, as with many 'Forest families', there are branches of my family coming into the area. Looking at one branch from Leamington Spa, their first child to be born locally was given the middle name 'Forester', showing how much they identified with their new home (and perhaps also flagging his eligibility to become a Free Miner).  
Do you have a background in the book world?
My Dad was the reader in our house – mostly travel and history books – but I wasn't much of a reader until when I was about 18. At the suggestion of some more bookish friends, I started reading F. Scott Fitzgerald, then Milan Kundera. After that it was Hemingway, and I was hooked. I studied English as a mature student at the Polytechnic of Central London (now the University of Westminster). This meant reading several books a week, so I had a great time! After I moved back to the Forest I became friends with local author and historian Ralph Anstis, and this was really the start of my interest in Forest literature and history. 

How and when did the 'Reading the Forest' project begin?
Back in 2012 I had just started studying for a PhD, which at that stage would involve Forest literature in some loosely defined way.  Myself and soon-to-be project partner Roger Deeks had, unbeknownst to each other, both suggested that Forest literary heritage should be part of the newly-proposed Landscape Partnership Programme in the Forest of Dean, led by Forestry England. That first bid was unsuccessful but by the time it was resubmitted, Roger and I were working together on what would become Reading the Forest. The bid was successful and we started in earnest in 2015, as part of the wide-ranging Foresters' Forest Landscape Partnership Programme funded by the National Lottery Heritage Fund.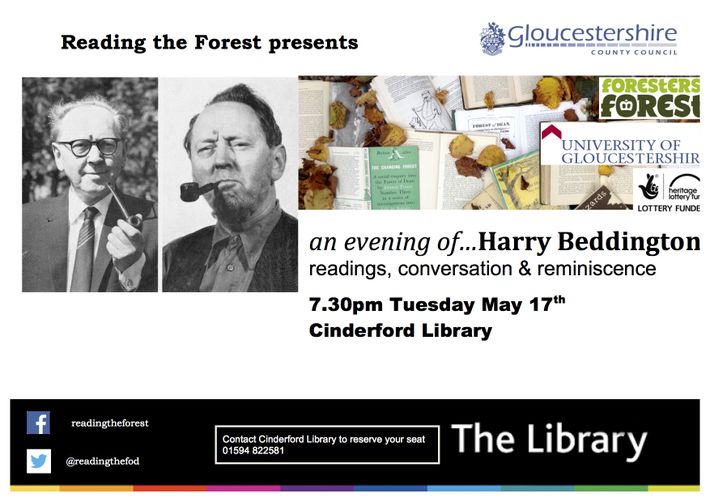 How does the project connect with authors and readers in the Forest of Dean?
Public engagement was written into the project by us from the start. Roger had experience with the F. W. Harvey Society, and at the time I was running a media course at the University of Gloucestershire, so we had some good insights into how to use different media, the main idea being to 'go where the audience is'. We knew that creating a website would be the best and most accessible way to share our research.
Social media has also been key, but with that space so crowded, we also realised the value and power of local events: people gathering together in the real, physical world! Early on we ran a series of evenings in local libraries. They were 'hybrid' events involving audio-visual material, performance, readings, interviews and discussion panels, with the involvement of local authors and poets. Since then we have put on many events in the community, often over a weekend or longer, some involving film screenings, exhibitions, guest appearances, art & photography…Our fantastic team of volunteers have been key throughout, helping with events but also undertaking research – we simply could not have achieved so much without them.  
How to you see 'Reading the Forest' developing in the future?
The website and social media will continue to be developed over the coming years, and there's lots more we want to do.  We hope the interest generated by our new Anthology of Forest Literature, in particular amongst local schools, will open up Forest books and authors to a new generation. We have exciting plans we're developing – we'll keep you posted!
You recently completed your PhD thesis, entitled 'Reading the Forest: A History and Analysis of Forest of Dean Literature'. What inspired you to pursue this subject?
My undergraduate thesis was on the work of television dramatist (and so much else!) Dennis Potter. He had just done that amazing final interview with Melvyn Bragg, and of course studying him and his work linked me back to home in a way. Years later, back in the Forest, when my friend, the late author and historian Ralph Anstis moved to be nearer to his daughter, he very kindly gave me his amazing collection of Forest books. As I added to the collection over the years I started to become aware of the range and wealth of Forest writing, but beyond the small circle of local book collectors and historians, no-one else seemed to know what a rich literary history the Forest had. When I later embarked on an academic career at the University of Gloucestershire, I was considering studying for a PhD. Discovering that there had been zero academic studies of Forest literature as a whole, the choice was easy.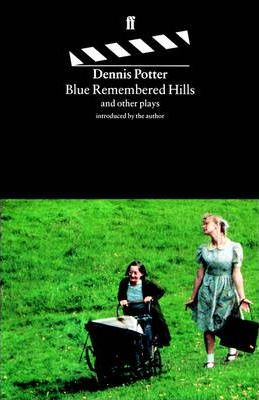 How difficult was the topic to research?
Having such a fine collection of Forest books to hand made for a good start! All the way through my part-time PhD studies, Roger, myself and our volunteers were building Reading the Forest and all of that activity was an incredibly valuable support.  
Did you uncover some unexpected or surprising information?
There were so many surprises but I guess that's the nature of of original research. To pick out just a few:
discovering the life and work of Ada M. Trotter;
Harry Beddington's dramas;
Winifred Foley's writing and appearances on BBC Radio two decades before A Child in the Forest was first broadcast.
Will the thesis be published and available for the wider public to read? 
I'm currently looking at adapting the thesis for publication, but in the meantime it's available as a download for anyone to read here: https://eprints.glos.ac.uk/9466/
And do you have any future 'book' plans, now your PhD is complete?  
Myself and Dr Roger Deeks have just completed Reading the Forest: A Forest of Dean Anthology published by Douglas McLean Publishing. It includes extracts of writing about the Forest of Dean from the C16th to the present day. It's a limited edition produced mainly as a resource for local school teachers, but you can find copies in any library in the Forest of Dean. There are so many more stories to tell and books to publish around Forest literary heritage, I'm still deciding where to start…