I discovered Limestone Books by accident when I walked past it in the Grote Gracht. I immediately went in to say hello and to introduce myself and our writing group, Maastricht Writers Workshop. Now that I've made a connection with the store,  I'm really pleased to be able to interview Chen Jhen, one of Limestone's founding team. From the start, it's clear that Chen is supportive of the local community and is working hard to create links with creative people in the area. Here she explains the thinking behind Limestone's beginnings and how she sees the bookstore's  place in Maastricht's cultural life.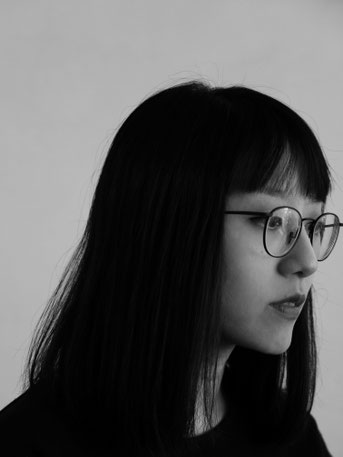 How would you describe Limestone Books? 
Limestone Books is an art bookstore situated in Maastricht, the Netherlands. It's a collective project curated by five members with diverse backgrounds. Each month, these members come together to carefully select a range of books that focus on non-Western perspectives in topics such as film, visual arts, design, gender studies, urban planning, institutional critique, decolonization, anthropology, and archival studies. Limestone Books also serves as a project space, hosting exhibitions, lectures, and workshops related to publishing and book art, with the goal of re-imagining the possibilities of a bookstore through a critical lens.
Why did you decide to open Limestone Books?
I've worked as a book designer for years and I really wanted to do something more about books. While designing books was fulfilling in many ways, I felt like there was more that I could offer to the book community. I wanted to create a space where people could come together to share their love of art books, and engage with art books in a meaningful way.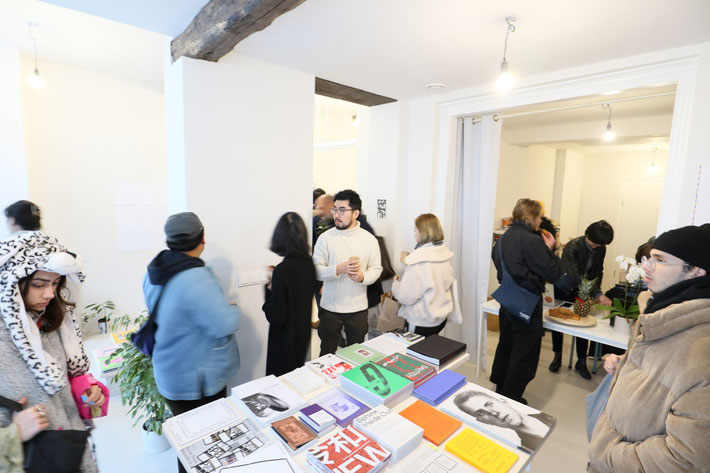 When did the store open?
We opened on December 1st, 2022.
Do you have a background in writing, publishing or book-selling?
I'm a book designer. I've been working in book design for 10 years in the Netherlands and Taiwan and was selected for one of Stimuleringsfonds' talent development programs. I was also a participant of the Jan van Eyck Academie from 2018 to 2019, where I spent most of my time working in the Print and Publishing Lab. My book design has won awards such as the 'Best Book Design in the Netherlands' and the 'Golden Butterfly Award' (Best Book Design in Taiwan). My projects have been exhibited in various places, including the KF Gallery Seoul (KR), Jinren's Paperlogue Beijing (CN), the Stedelijk Museum Amsterdam (NL), the Haus der Kunst (DE), the National Human Rights Museum (TW) and the Taiwan Design Museum.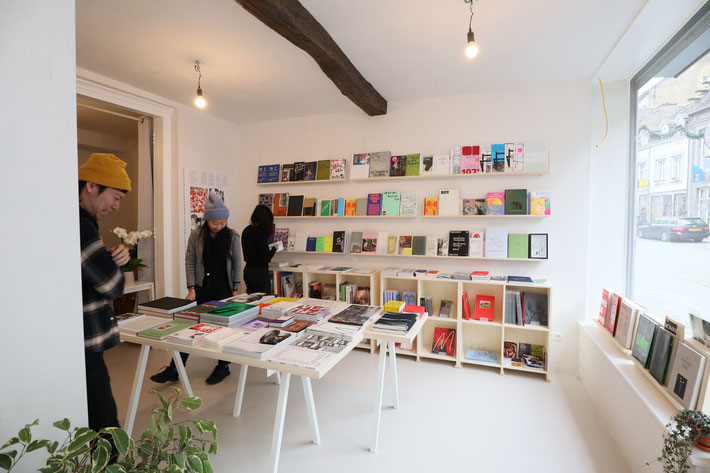 How many people are in the Limestone team?
We have five contributors from different art disciplines. As well as myself, the team also includes:
Liang-Kai YU, responsible for book selection management, who is a Taiwanese art researcher, writer, and curator based in the Netherlands. His research at Maastricht University focuses on contemporary LGBT+ curatorial and artistic interventions into the Dutch and other international art museums.
HSIEH I Hsuan, based in Amsterdam and Taipei, coordinates events and programmes. She is a chief editor for Taiwan Documentary E-Paper and guest editor at Taiwan International Documentary Festival (TIDF). As one of the members of the Taiwan Film Critics Society, her writings range from interviews and reviews, to essays on films, moving images and film festivals with a focus on Taiwan and Southeast Asia.
Emily Shin-Jie Lee, who coordinates events and programmes and communicates cross-institutes internationally, is a coordinator of residencies, social practice and academic collaborations at Framer Framed. Her recent projects include: Declaring Distance (2022), an annual residency with Indonesian artist Theo Frids Hutabarat in collaboration with Atelier KITLV; Struggle and Solidarity (2022), a workshop organized together with Indonesian collective Taring Padi; Drawing Stories (2020) and Shaping Feelings (2021).
Chang Yu-Hsin, who is responsible for space and exhibition design/consultancy, studied at the Design Academy Eindhoven in the Netherlands, has collaborated with various design and exhibition firms and is also the founder of Studio Fab.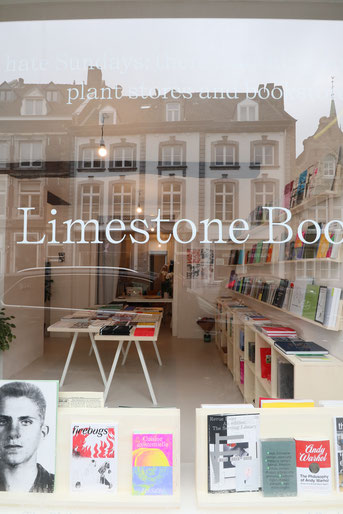 Why have you based the bookstore in Maastricht?
After completing a residency at the Jan van Eyck Academy, I grew to like the city of Maastricht and I've stayed since then. Despite its modest size, Maastricht has a rich cultural scene, including art schools, museums, galleries, art festivals and numerous underground art spaces, as well as thriving local art communities - many of which are easily accessible in the city. Strangely, despite this level of artistic activity, Maastricht lacked an art bookstore. As a graphic designer, I wanted to do something focused on books so I decided to open my own store. We've received quite a few comments from people who are surprised that we've opened an art bookstore in Maastricht, but the same people are often saying they're glad we're here. It feels like Maastricht needed an art bookstore.
What can people expect when they visit the bookstore?
Limestone Books is actually a collective of five Taiwanese who work together to curate the book selection that we show in our store.  Each of these people has their own area of expertise, such as gender studies, curation, film and spaces, and they select books that appeal to them. Curating books this way lets us focus on our strengths. Don't be too surprised when you enter the shop, because the books aren't organized according to categories and our display is always changing. For us it is a field of experiment; can we make a conversation between old and new books? What will happen if you put a western feminist theory book next to a piece of Bengali literature with depictions of hardcore sexuality? Can the display of books be used as a radical provocation?
     We also want to keep the selection process fluid, and we invite artists, writers, designers and activists to take over the space and organize thematic exhibitions, talks and workshops. At the same time, they will also add a few titles to the collection. Limestone Books is a collective and a democratic project, and we will try to make it even more so in the future.
Who is your target audience?
We are aimed at the general art book enthusiast. We also hope that people with no art training will come in and explore genres they are unfamiliar with.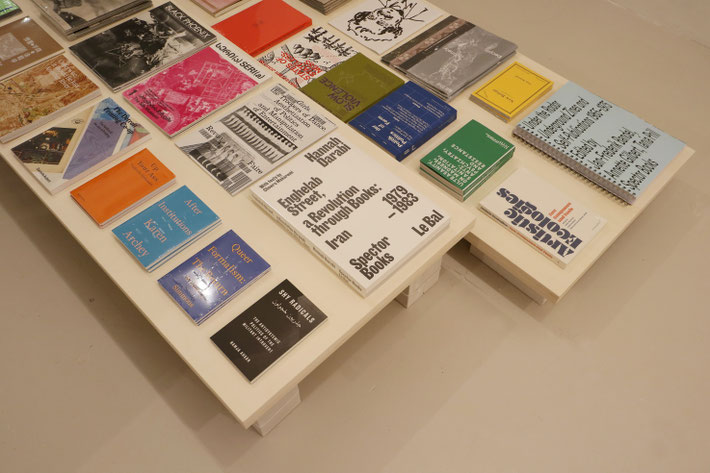 Do you offer books in various languages?
Yes, we think having multiple languages is important. The only English bookstore (previously in Frankenstraat) temporarily closed last year and we've become a bookstore which has mostly non-Dutch books. As a group of Taiwanese who have relatively easy access to the art book scene, we have seen so many amazing art publications which are rarely seen in Europe. Since Europe has a very strong art book distribution system, it's easy to see European art books, but the same can't be said for non-Western books. Therefore, we are focusing on getting more non-Western and multi-language books in the shop. 
     Somehow it's a bit of a statement, to show people that we exist, even if maybe nobody will come to buy anything, but in reality, people have found those books and they actually sell. I got a picture book made by a Taiwanese artist and the language is in Taiwanese. The Taiwanese written system was developed only recently. It is very rare to use it in picture books, even in Taiwan, but this book was sold to a Dutch customer who simply liked the concept and wanted to know more about the book. Another example is a Chinese student from Shanghai who bought two books in Arabic, since he is learning Arabic and books in Arabic are hard to find anywhere else in Maastricht. We're highlighting examples like this. There are many people from a multicultural background in this city. They are looking for books and we are glad to fill the void.
      On the other hand, we also encountered a few customers who've come and questioned us about why we don't have Dutch language books. I find that interesting because I can't imagine anyone walking into an art bookstore in Taiwan and questioning why they don't have Chinese language books. I'm still processing what could cause such a question.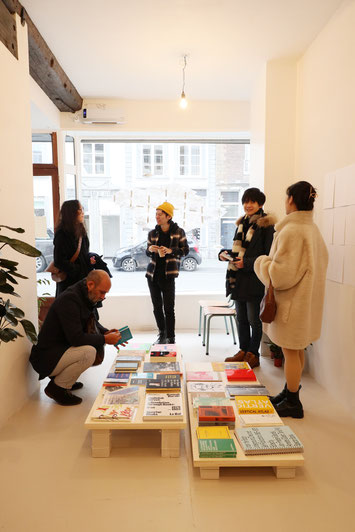 How do you see Limestone's place and role in the local community?
Personally, I think of the bookstore not just as a place to buy books, but as a space for the community. Recently, our team has been talking about what a community is, and that reminds me of a story that happened in the shop. At the end of January, the store received a letter from an independent publishing house that we usually collaborate with. It contained an anonymously produced booklet of poems and dialogues. The booklet was printed on A4 paper using an inkjet printer, and was a long, narrow booklet folded along the short edge. The booklet was about the poet Ali Asadollahi who had been imprisoned for at least 45 days on November 21, 2022, because of his participation in Iran's Woman Life Freedom Movement. The note inside the envelope stated that the publishing house produced the booklet in the hopes that any institution or individual who received it could become Ali Asadollahi's voice. Specifically, they requested that people take a photo and post it on social media to spread the message further. In this digital age, it was striking to receive a physical booklet in the mail, to hold it in one's hands and read it word by word. It reminded me of what Iris de Leeuw, who participated in the Provo Movement in Maastricht 50 years ago, once said to me: the artistic value of printed materials only comes out through interaction with people during a movement, and if it is sent to a museum, the art disappears...
     I put two copies of the booklet in the store for people to check, and then people began to ask if they could buy them. The people who asked turned out to be activists from the Iranian community. I told them that we weren't selling them, that we just wanted to put them in the store for more people to read. Later, I thought about it carefully and realized that the booklet was lightweight and easily printed, so why not print it ourselves in the store and let others have it for free, to allow more people to feel the power of this publication. After obtaining the file from the original maker, we began printing it ourselves using the printer in the store, at a rate of about 5 booklets per day. Later, more and more people came to the store to get the booklet, and activists from the Iranian community wanted to take some to use in their university event. We used an ordinary office printer, and producing one booklet at a time was too slow, so we suggested giving them the file and allowing them to find a faster copy shop to produce it with their own funding. Later, the artist community in Aachen also requested the file, and continued to produce it there and provide it to the local community. Customers have told me that a lot of people didn't know where Maastricht was, but since the Ali Asadollahi publication incident grew on social media, many of their friends in Iran learned about our bookstore. 
     When the bookstore first opened, we immediately and spontaneously made connections with activist groups in Maastricht, which I didn't really expect. We started to organize events with them and I also got to know the strong energy of activism in the town. From there, I've also got to know what people care about and that can be very helpful for book selection.
Do you have plans to support local authors?
After working as a freelance designer in the Netherlands (which I still do), I wanted to create something more tangible, a space for collaboration. As a young book maker, I found it difficult to find a platform to show my works. This experience played a crucial role in how the bookstore operates today. We initially accepted books made by individual artists without a rigorous selection process, as we believed it should function in a more democratic way. This approach gave everyone an equal opportunity to exhibit their works, and the readers would find them on their own.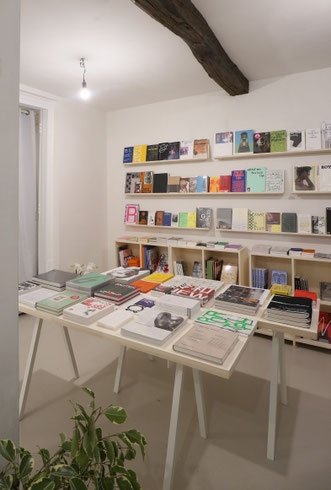 Do you have plans for events at the store?
While artists should focus on creating books, I see telling stories about books as my artistic practice. That's why we aim to promote books in a more creative and experimental way through events such as the Midnight Bookstore and Artist Takeover Bookstore. On the first Thursday of every month, we have an event in the shop till 6:00 in the morning. Sometimes we screen movies or films related to the books in the shop. We also take artists' proposals for whatever they'd like to experiment with at midnight.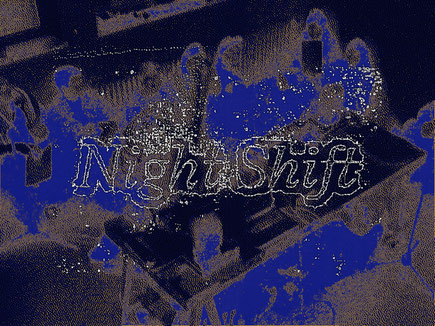 This month we just finished the event 'Night Shift', organized by artists Sumugan Sivanesan and Rose Nordin. They had this crazy idea of having a live podcast 'Audio Fanzine' for 6 hours, while at the same time, designing and printing a zine which is transcripted from the audience, with a very old Gestetner 360 Stencil Duplicator. The sound production was very organic and many artists participated. Maud van den Beuken had the audience entranced with her audio descriptions of the movements in the space, as Kim David Bots improvised musical interludes. Chang Chih Chung read the story of propaganda in Kimen in Taiwanese, Mandarin and English. The audience also produced their poetry and music and were present in the radio show.  So many artists contributed from many countries and in multiple languages. People were inspired by one another and produced new content. It was very beautiful. In the morning we collectively produced a zine 'Transcription from the night waves', which was given to the participants for free. The event really inspired me, since the production itself is a valuable part of the process. Also the midnight event opens up a portal to other time zones on the other side of the world.
     Artist Takeovers are another form of planned event.  We invited artists to take over the storefront.  They get a budget to select the books, change the display or the lights in the shop, (even the name of the shop), and the artist can organize events and propose any kind of connection to the community as the bookstore. At the end of March we will have our first Takeover. We hope to share with you how it goes soon. Observing these events really inspired me to think more about production and distribution as part of book making, and made me rethink how I define the concept of a 'publication'.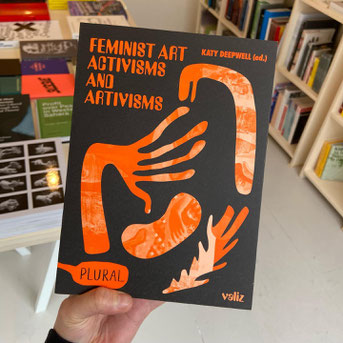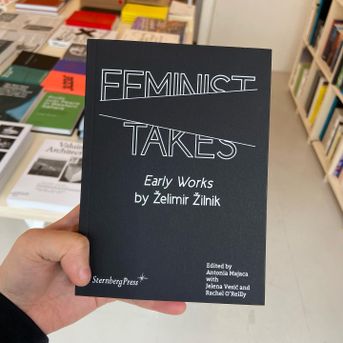 Do you have plans to work with local schools?
We're planning to work with schools in the future. We currently work with the Female Empowerment Maastricht University (FEM) team and the Diversity & Inclusivity Office(D&I) of Maastricht University. FEM's and D&I's Corner is a collection of books curated by Limestone Books in honor of Women's Day. Within the pages of these thought-provoking works, readers are invited to explore the ways in which artists, designers, and activists reimagine and redefine societal norms surrounding gender empowerment. Drawing on historical research, personal experience, biology, photography, performing arts, graphic design and more, this collection offers a comprehensive and in-depth examination of the complex issues surrounding gender equality and diversity. Join us on this enlightening journey as we celebrate the resilience and creativity of women and the crucial role they play in shaping our world.
What is the long term vision for Limestone?
This is a very hard question for me since I am not very good at planning out the future. I'd like to work on upcoming events in an organic way, and just see how it all unfolds.
Limestone Books is at Grote Gracht 63, 6211 ST Maastricht. The store is open every day from 11:00-18:00, including Sundays.
Contact: limestone.maas@gmail.com 
Follow Limestone Books on social media:
Facebook: Limestone Books
Instagram: limestone_books_maas